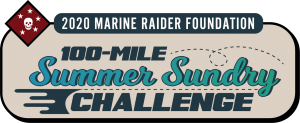 Make those miles count this summer!  Run, walk, bike, hike, swim – you choose your mode of movement!  Log 100 miles from June 14th, Flag Day, to August 30th to show your support for the Marine Raider community!  There is no cost to register and participate in the challenge.  Simply create a fundraising page and invite your family and friends to support you as you make an impact with the miles you tally over the summer months!  Join today by visiting  https://runsignup.com/Race/AZ/FountainHills/MarineRaiderFoundation100MileSummerSundryChallenge
We have some awesome fundraising incentives, including:
Raise $250 and earn a Marine Raider Foundation Patch!
Raise $500 and earn a custom Under Armour 100-Mile Summer Sundry Challenge t-shirt!
Raise $750 and earn a Marine Raider Foundation hat!
Raise $1000 and earn a pair of Oakley sunglasses, courtesy of event sponsor Oakley!
Raise $2000 and earn a Miles for MARSOC Community Athlete Kit – we have kits for running, cycling and triathlons!
Awards given to Top 3 Fundraisers!
Take the challenge solo, create a team with family or friends!  The main point is to have fun and know that you are helping to make a difference in the lives of Marine Raiders and their families!  RunSignUp hosts our virtual challenge site – easy to upload your activity and mileage, track your progress, create and update your fundraising page, and have some friendly and philanthropic competition with everyone who is running, cycling, walking, hiking, rowing – all methods of movement are welcome!
Join us in supporting Marine Raiders and their families!  Our donors and advocates have helped to provide over $4.3 million in assistance over the past 8 years.  The Foundation's four main mission programs are: Raider Support; Family Resiliency; Tragedy Assistance and Survivor Support; and Raider Legacy Preservation.  The Foundation focuses on meeting needs unmet by the government and other agencies with an emphasis on resiliency at the personal, professional and family levels.  Join us today in "Helping those who have sacrificed the most."