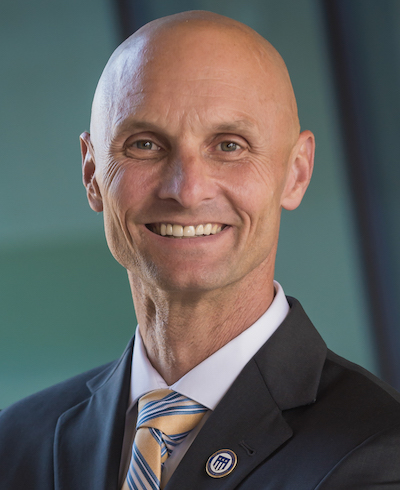 Lieutenant Colonel Andrew Christian retired from the United States Marine Corps with over twenty-eight years of active duty service as a prior enlisted Marine and Officer. Christian, a Marine Special Operations Officer and combat veteran, has leveraged the principles of leadership, discipline, accountability and resiliency learned in combat and applied down range for building high-performance teams in the non-profit world.
In 1997 Sergeant Christian was selected for meritorious commissioning and was commissioned a 2nd Lieutenant. He was chosen as the honor graduate at Officers Candidate School and received the Major General Wheeler award while attending the Infantry Officers Course in Quantico, Virginia. In 2001 Captain Christian deployed to Iraq in support of Operation Iraqi Freedom and directly supported Combined Joint Special Operations Task Force North during combat operations in Mosul, Iraq. In 2002 Captain Christian deployed to Liberia, Africa where he conducted combined joint peace keeping operations with Joint Task Force Liberia. In 2004 Captain Christian received orders to be a military advisor in Karbala, Iraq and spent one year combat advising Iraqi forces. From 2007 – 2011 Major Christian deployed to Afghanistan for duty as the Future Operations Officer Combined Joint Special Operations Task Force Afghanistan and conducted two additional deployments to Afghanistan as the Commanding Officer of Alpha Company, 1st Marine Special Operations Battalion.
In 2012, Major Christian reported to Coronado, California for duty as the Marine Corps Forces Special Operations Command liaison officer to the Navy SEAL Command. In 2014, Major Christian was promoted to Lieutenant Colonel and commanded 1st Marine Raider Battalion from 2015-2017. He deployed to Iraq in 2016 and commanded a Special Operations Task Force of Marine Raiders, U.S Army Special Operations Forces, and Navy SEALS during the battle to take back Mosul from ISIS.
Lieutenant Colonel Christian's personal awards include the Navy Marine Corps Heroism Medal, Legion of Merit with Combat "C" device, two Bronze Star Medals with combat distinguishing devices, three Navy Marine Corps Commendation Medals with combat distinguishing devices, the Combat Action Ribbon with three Gold Stars in lieu of 4th award. He earned a BS in Criminal Justice and is a graduate of the Marine Corps Command and Staff College. He is a six-time Ironman Triathlon finisher, avid cyclist and mountaineer. Currently, Andy is employed by Nikola Motor Company and resides in Arizona.