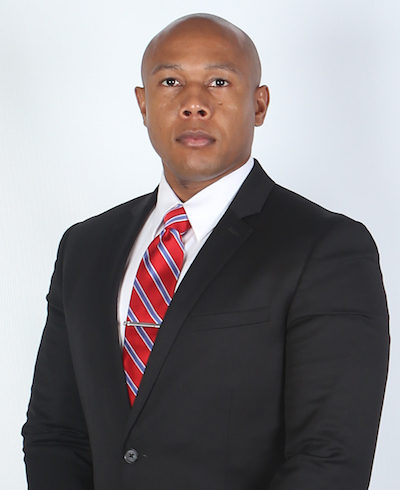 Major Cedric Jefferson is currently serving as the Special Operations Capabilities Integration Officer for the Marine Corps Combat Development Command in Quantico, VA.
He began his career as an Infantry Officer, deploying twice to Iraq as a Rifle Platoon Commander with 2nd Battalion 3rd Marines, leading infantry platoons as well as serving as the mentor and lead training officer for multiple units of the Iraqi Police.  Following his assignment as a Platoon Commander, he assumed the duties of Executive Officer for the School of Infantry West, Advanced Infantry Training Battalion Detachment in Hawaii.  
In 2009, Major Jefferson was reassigned to Joint Interagency Task Force South (JIATFS) in Key West, FL to serve as a Tactical Action Officer (TAO) and Aide-de-Camp.  During his assignment as a TAO, he  served as the JIATFS liaison officer to the USS Wasp, working closely with Drug Enforcement Administration Foreign-deployed Advisory and Support Teams (FAST) and Tactical Response Teams (TRT) to counter illicit-drug trafficking from South America to Hispaniola and Central America.  
In 2012, Major Jefferson completed the Marine Corps Forces Special Operations Command (MARSOC) Individual Training Course (ITC) in Camp Lejeune, NC.  He served as a Team Commander with 1st Marine Raider Battalion in Camp Pendleton, CA from 2012-2016 where he deployed to the Philippines, Palau, Guam, Australia and South Korea.  He served as a Joint Mission Commander, commanding both US Marine Raiders and US Navy SEALs through numerous Joint Combined Exchange Training (JCET) Exercises responsible for the training and mentorship of four Filipino Special Operations Units, and a company of the Republic of Korea's elite Navy SEALs.  
Major Jefferson's personal awards include the Defense Meritorious Service Medal, Navy and Marine Corps Commendation Medal, Navy and Marine Corps Achievement Medal, and a Combat Action Ribbon.  He earned his commission and Bachelors of Science Degree in Political Science from the United States Naval Academy in 2005.  His passion for athletics and development has been the impetus for his volunteering as a coach with numerous youth baseball and football teams as well as the Boy Scouts of America.  He currently resides in Bristow, VA with his wife and four children.