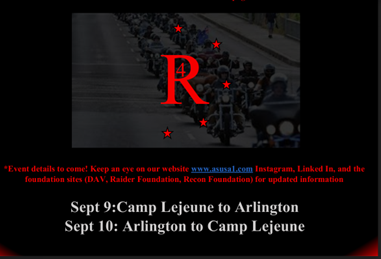 Marines from the Force Reconnaissance and Raider community and others will honor the 201 who have fallen in service to our nation through a motorcycle ride from Marine Corps Base Camp Lejeune to Arlington National Cemetery and back to Camp Lejeune. The mission is designed to raise maximum awareness of the sacrifices of those killed in action or in training and raise funds to support charities who assist the community, its families and survivors.
The Recon Raider Remembrance Ride will be a convoy style operation conducted by veterans. Each participating motorcycle will represent a fallen Marine Raider or Reconnaissance Marine. Along the journey, riders will pass through communities where some surviving family members reside to honor the fallen and pay respects to Gold Star families who shared in the sacrifice of our national defense.
The event is presented by Asymmetric Solutions, a global leader in private special operations capabilities. Its team is comprised of combat-decorated, highly reputable members of various special operations units, elite government agencies and seasoned special operations law enforcement officers. Collectively, the team has executed hundreds of combat deployments globally and supported countless stateside operations in support of law enforcement and government agencies nationwide.
Sponsorships and volunteer opportunities are available.