The Bloody Ridge Race Team competes for a cause! The first-ever Mint 400 Military Challenge is bringing together the military community to connect, compete, and raise awareness and funds for charities. "Who wouldn't want to race an off-road vehicle to bring awareness to the special operations community, to veterans, and to active-duty service members," said former Marine Raider Master Gunnery Sergeant Matt Curran.
Curran is one of four racers on the Bloody Ridge Race Team raising awareness and financial support for the Marine Raider Foundation. He's joining Marine Raider Regiment Commanding Officer Colonel John "Jody" Lynch, who raced in the Mint 400 last year and raised over $20,000, with the help of his partner, former UFC Fighter Josh Koscheck. The Mint 400 Military Challenge was grown out of Lynch's involvement in one of the most prestigious off-road races in the world where he experienced firsthand the military's ongoing involvement in off-road culture and the many ties between the two communities.
"It's not a sport you can succeed in on your own and that naturally connects with the military," said Lynch. Clint Alanis, Mike Perella, Matt Curran, and Jody Lynch will have to work together to strategize, problem-solve, alternate drivers, and manage the vehicle to complete the 321-mile race. The team of active-duty and retired MARSOC Raiders will compete against members from each branch of the United States military who will be racing for their specific charity that focuses on the needs of its active-duty members and veterans.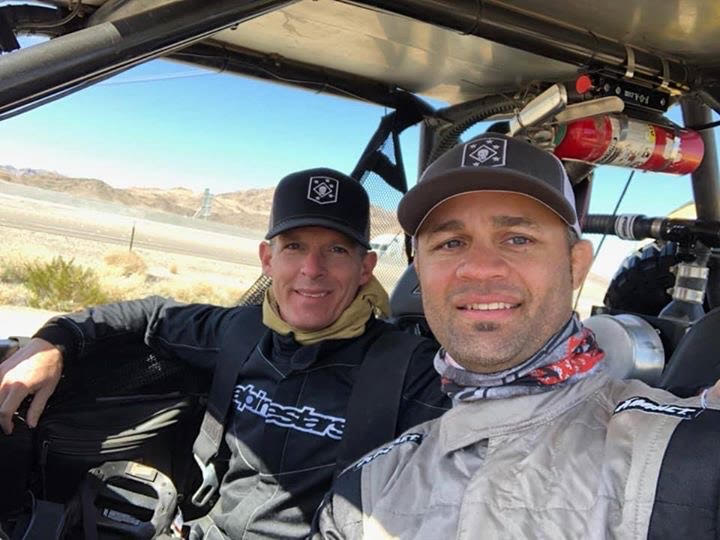 Jody (Left) and Josh (Right) ready to roll in the 2019 Mint 400
"We're working with a team for something larger than ourselves," said Lynch. He and his wife, Shelly, have been long-time advocates and supporters of the Marine Raider Foundation that provides an array of assistance to active duty, retired, and fallen MARSOC heroes from transition assistance to survivor support and even family resiliency support. Shelly created the fundraising pages and campaigns for all of the teams competing.
"It's a great way to provide more exposure to foundations, grassroots efforts, and non-profits," she said of her involvement. Lynch is hopeful that the Mint 400 Military Challenge will grow even bigger in the years to come.
Show your support and sponsor the Bloody Ridge Race Team as they compete in high-speed off-road racing for the Marine Raider Foundation on March 6th with a flat or per-mile donation!
Photo Credit: Jody Lynch