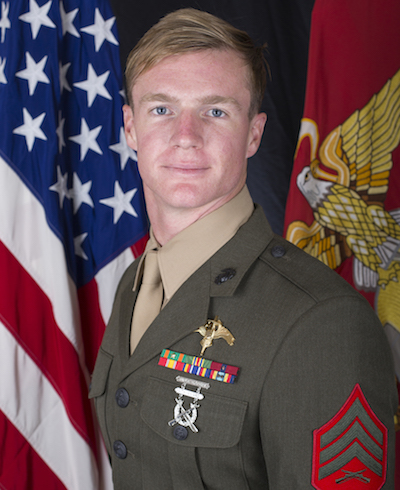 Sergeant Dietrich Schmieman was born on Jan. 9, 1991. He attended Basic Training at Marine Corps Recruit Depot San Diego in September 2010, and upon completion, he attended Marine Combat Training at Camp Pendleton, CA and the Enlisted Basic Supply Course at Camp Johnson, North Carolina. Sgt. Schmieman reported to 3rd Reconnaissance Battalion in April of 2011 and was promoted to Lance Corporal in October 2011.
In April 2012, Sgt. Schmieman participated in pre-deployment training in Combined Arms Training Center, Camp Fuji and was promoted to the rank of Corporal. He attended the Enlisted Supply Intermediate Course in September 2012 and was the honor graduate. He then supported Alpha Company, 3rd Reconnaissance Battalion in Exercise Sandfisher while conducting cross-training with the Singh Naval Dive Unit.
In January 2013, Sgt. Schmieman attended the Basic Airborne Course at Fort Benning, GA.  He was promoted to Sergeant in January 2014 and reported to Stone Bay, North Carolina for Assessment & Selection. After successfully completing A&S, he returned to 3rd Reconnaissance Battalion to continue to work as the Supply Admin Chief.  In August 2014, Sgt. Schmieman reported to Marine Special Operations School for Individual Training Course 14-2, and in May 2015, he was assigned to Basic Language Course where he completed the Modern Standard Arabic class with a score of 1+/1+.
In October 2015, Sgt. Schmieman reported to 2nd Marine Raider Battalion, attending the MARSOF Technical Surveillance Course, the Multi-Mission Parachute Course, Sergeant's Course and MARSOC Network Operators Course.
Sergeant Schmieman died when a KC-130T crashed in LeFlore County, MS on July 10, 2017.
Sgt. Schmieman's personal decorations include the Navy-Marine Corps Achievement Medal (2nd award), Marine Corps Good Conduct Medal and the Sea Service Deployment Ribbon (3rd award).