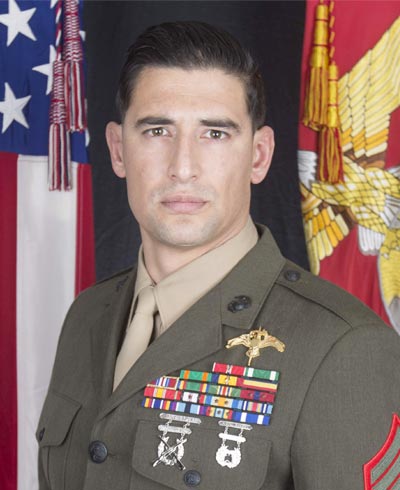 Gunnery Sergeant Diego Pongo was born in Chatsworth, CA on July 19th, 1985. He enlisted in the United States Marine Corps in October 2004 and attended recruit training at MCRD San Diego, CA.  Upon graduation, he was meritoriously promoted to Private First Class.  Upon completion of recruit training, Private First Class Pongo was ordered to School of Infantry West and graduated as an 0311 Rifleman. He was then ordered to 2nd Battalion 23rd Marines at Los Alamitos, CA. PFC Pongo was promoted to Lance Corporal and assigned as a Rifle Team Leader. In December of 2006, he was meritoriously promoted to Corporal and transferred to active duty where he was then assigned to 1st Battalion 5th Marines at Camp Pendleton.  In July of 2007, Corporal Pongo was assigned to the Scout Sniper Platoon and deployed with the 11th MEU in November 2007. In July of 2008, Corporal Pongo attended Scout Sniper Basic Course West and was assigned as a Sniper Team Leader. He was meritoriously promoted to Sergeant in May 2009 and deployed to the Helmand River Valley, Afghanistan the following month.
Sergeant Pongo attended Assessment & Selection for Marine Special Operations Command in October 2010. Upon completion, he was given orders to attend the Individual Training Course 2-11 beginning April 2011. Upon graduation of the Individual Training Course, he was assigned to Golf Company 2nd Marine Raider Battalion. Sergeant Pongo deployed with Marine Special Operations Team 8223 to Afghanistan in March of 2013 as an Element Member.  In April 2014, Sergeant Pongo was promoted to Staff Sergeant and was assigned to 8223 as an Element Leader. He deployed to Iraq in July of 2015 in support of Operation Inherent Resolve.  Gunnery Sergeant Pongo was assigned to the Marine Raider Regiment in January of 2017, where he performed duties as the Regional Operations Chief where he was responsible for assisting in the development, planning, coordination and synchronization of all Marine Raider Regiment and Marine Raider Battalion's current and future engagements.
While serving in MARSOC, Gunnery Sergeant Pongo deployed as an Element Member and an Element Leader to Afghanistan and Iraq. As an Element Leader, he was responsible for the tactical employment, training, accountability, fitness, administration, and logistical support of the element. He was also responsible for the training and tactical employment of partner nation forces to whom he was in support of. He frequently partnered with high-ranking members of Partner Nation militaries as well as Partner Nation Law Enforcement entities to provide mentorship during the planning and conduct of joint and unilateral combat and peacetime operations.  Gunnery Sergeant Pongo served as the Team Chief for MSOT 8232.  He spoke Spanish, European Portuguese and Brazilian Portuguese. He was working on his Bachelors degree in Business Entrepreneurship.
GySgt. Pongo was killed in action on March 8, 2020 while accompanying Iraqi Security Forces in North Central Iraq.
Gunnery Sergeant Pongo's personal awards include the Bronze Star Medal with combat "V", Purple Heart, Navy-Marine Corps Commendation Medal with Gold Star in lieu of 2nd award, Navy-Marine Corps Achievement Medal, Combat Action Ribbon with Gold Star in lieu of 2nd award, the Army Valorous Unit Award, Good Conduct Medal with 3 Bronze Stars, two Humanitarian Service Medals, the National Defense Medal, the Global War on Terrorism Expeditionary Medal, the Global War on Terrorism Service Medal, and four Sea Service Deployment Ribbons.