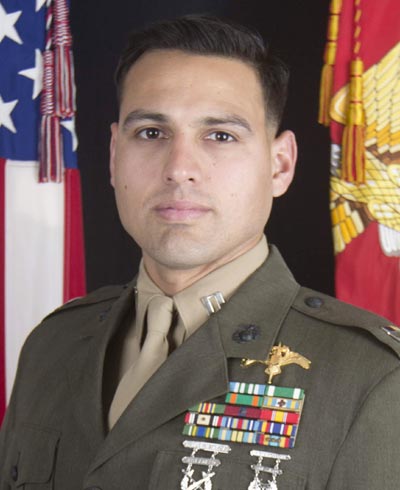 Major Moises Navas was born on 16 December 1985 in David, Panama. After graduating from Quince Orchard High School in Gaithersburg, MD in June of 2004, he attended Recruit Training in Parris Island, SC. He reached the rank of Sergeant before commissioning as a 2nd Lieutenant on 1 July 2010 through the Marine Enlisted Commissioning Education Program. In December of 2010, he reported to The Basic School in Quantico, VA and subsequently attended the Infantry Officer Course, earning the Infantry Officer (0302) MOS.
Major Navas reported to 2nd Battalion, 3d Marines at Kaneohe Bay, HI and served with the Island Warriors from October 2011 to September 2014. He deployed as a Platoon Commander in 2012 in support of the Unit Deployment Program (UDP) to Camp Schwab, Okinawa, Japan. As a Platoon Commander, he conducted multiple bilateral training exercises throughout the Pacific area of responsibility where he was responsible for the training of four foreign partner nations. Upon redeployment, he served as Company G's Executive Officer, where he led the company through several deployment for training exercises to include the Mountain Warfare Training Center, Bridgeport, CA, Pohakuloa Training Area, HI and 29 Palms, CA. He once again deployed with Company G on a UDP where he conducted three multinational exercises to include training in the Republic of Korea and throughout Japan.
Major Navas was selected to attend the Army's Maneuver Captain's Career Course in Ft. Benning, GA. While awaiting to execute orders, he attended Marine Special Operations Forces Assessment and Selection in August 2014 and was selected to continue training, ultimately earning the Special Operations Officer 0370 MOS.  Upon completion of Marine Special Operation Forces Team Commander's Course in May 2016, he reported to 2nd Marine Raider Battalion. In January of 2018 he deployed to Jordan as Team Commander of Marine Special Operations Team 8232, Marine Special Operations Company H in support of OPERATION INHERENT RESOLVE as part of Special Operations Command Forward-Jordan, Special Operations Command Central. During this deployment, he assessed, trained and equipped Jordanian Special Operations Forces alongside the UKSOF, FRANSOF, CANSOF, conventional Marine Corps, Army units and supported other government agencies from the US Embassy.
Major Navas graduated from the USMC Expeditionary Warfare School Non-Res, the Maneuver Captain's Career Course, the USMC Command and Staff College Non-Res, Marine Combatant Diver and Military Freefall Course.
Major Navas was killed in action on March 8, 2020 while accompanying Iraqi Security Forces in North Central Iraq.
Major Navas' decorations include a Purple Heart, Joint Service Commendation Medal, Navy-Marine Corps Commendation Medal, Navy-Marine Corps Achievement Medal, Combat Action Ribbon, two Good Conduct Medals, Military Outstanding Volunteer Service Medal, Humanitarian Service Medal, National Defense Service Medal, Global War on Terrorism Expeditionary Medal, Global War on Terrorism Service Medal, and four Sea Service Deployment Ribbons.  Captain Navas was promoted to the rank of Major posthumously.