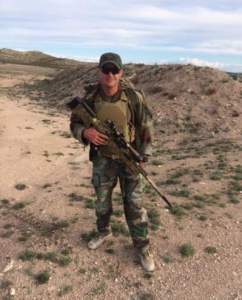 Gunnery Sergeant (GySgt) Scott A Koppenhafer was born in Mancos, CO on 13 February, 1984. He graduated from Adams State College in 2005 with a B.S. in Business Marketing. He enlisted in the Marine Corps and attended boot camp and the School of Infantry in 2005/2006 becoming a 0331 Machine Gunner. In 2006 he was assigned to 1st Battalion 5th Marines (1/5).
From January 2006 – July 2008 GySgt. Koppenhafer served with 1/5 in various capacities in Bravo Company as a Machine Gun Team Leader for part of his first deployment with the 31st MEU. During this deployment he attained the rank of Corporal, attended the Sniper Platoon indoctrination, and was selected to join the platoon. He attended multiple courses throughout 2007 as a Sniper and became the Chief Scout for the Sniper Platoon in late 2007. He then deployed in this billet with the 11th MEU in 2008 where he attained the rank of Sergeant.
Upon returning from his second deployment with 1/5, GySgt. Koppenhafer re-enlisted to attend MARSOC Assessment and Selection and was selected to attend the Individual Training Course. For the winter of 2008 – spring 2009 he attended the first class of the Individual Training Course, graduating as Honor Graduate. He then attended the Advanced Language Course and became fluent in the Urdu language.
Upon graduation from the Advanced Language Course in 2010, GySgt. Koppenhafer was assigned to Marine Special Operations Team (MSOT) 8211, Fox Company, 2nd Marine Raider Battalion as an Element Member and deployed under this capacity to Afghanistan from winter 2010- summer 2011. During this deployment, he meritoriously attained the rank of Staff Sergeant.
Upon return from this deployment, GySgt. Koppenhafer remained in MSOT 8211 and deployed again to Afghanistan as an Element Leader from fall 2012 – spring 2013. He remained in Fox Company and was assigned as the Assistant Operations Chief for the Company. He deployed again to Afghanistan in this billet from spring 2014 – fall 2014.
Upon return from his third deployment with MARSOC, he was assigned to the 2nd Marine Raider Battalion Training Cell where he filled the billet of instructor/trainer from winter 2014 – spring 2016. During this timeframe he was selected for the rank of Gunnery Sergeant.
In the spring of 2016, GySgt. Koppenhafer was assigned as the Team Chief for MSOT 8223, Golf Company, 2nd Marine Raider Battalion. From July 2017 to February 2018 he deployed with his MSOT in support of Operation Inherent Resolve.
On August 11, 2019, GySgt. Koppenhafer was killed while advising & accompanying Iraqi security forces in Ninewah Province, Iraq.
GySgt Koppenhafer's personal decorations include two Bronze Star Medal with combat V, two Navy-Marine Corps Commendation medals with combat V, two Navy-Marine Corps Achievement Medals, and Combat Action Ribbon with gold star.