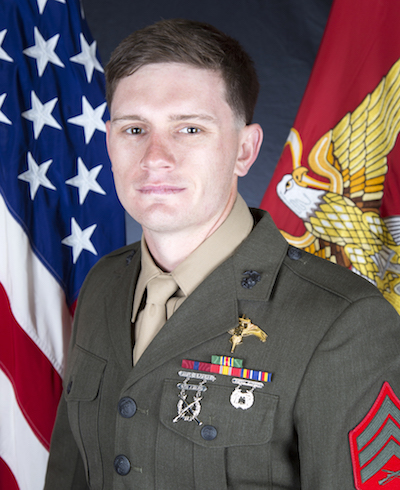 Sergeant Chad Jenson was born and raised in Southern California, spending most of his time in Redondo Beach with his parents and older brother. He graduated from Mira Costa High School and enrolled in Harbor Community College, where he played football for several months before enlisting in the Marine Corps in 2010.  He played center on his high school football team & helped lead the team to a championship title in 2009.  Sgt. Jenson was deeply admired for his selflessness & unwavering optimism by teammates, coaches, & teachers alike.
Upon completion of Basic Training and Marine Combat Training, Sgt. Jenson attended Communications Training in 29 Palms, CA, where he was enrolled in the Basic Electronics and Ground Radio Repairer courses. He was then assigned to his first unit, Marine Tactical Air Command Squadron-38 at Marine Corps Air Station Miramar, CA. For three years, he served in a 5939 Aviation Communication Systems Technician billet as a 2841 Ground Radio Repairman. Sgt, Jenson attended Assessment and Selection on Stone Bay in NC in April of 2014, and upon completion, he attended the Individual Training Course in August of that same year, where he was promoted to the rank of Sergeant. He graduated from ITC in May of 2015 and went directly to Basic Language Course, where he studied Modern Standard Arabic for six months and graduated with a 1+/1+ for speaking and listening. Sgt. Jenson was then assigned to 2nd Marine Raider Battalion, where he attended Basic Airborne, MARSOF Network Operator Course, MARSOF Helicopter Insertion and Extraction Techniques, and MARSOF Technical Surveillance Course. Sgt. Jenson was then assigned to Marine Special Operations Company H, Team 8231 and fulfilled the billet of the Communications Element Member.
Sgt. Jenson died when a KC-130T crashed in LeFlore County, MS on July 10, 2017.
Sgt. Jenson's personal decorations include National Defense Medal, Global War on Terror Medal, Marine Corps Good Conduct Medal, Certificates of Commendation, Meritorious Masts, and Letters of Appreciation.