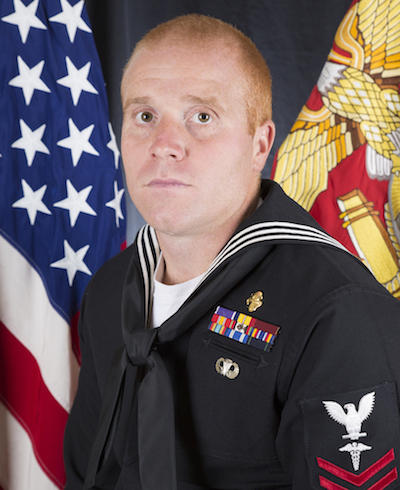 Hospital Corpsman First Class Ryan Lohrey was born on Aug. 24, 1986 in Middleton, IN. He graduated from Shenandoah High School in 2005, where he played Offensive & Defensive Tackle for the Shenandoah Raiders. He loved working out, the New England Patriots, & spending time with his wife, children, family & friends.  HM1 Lohrey entered the Navy on Sept. 27, 2007.  He graduated from boot camp at Naval Recruit Training Center, Great Lakes, IL in November 2007, then attending Hospital Corps "A" School and Field Medical Training Battalion "C" School.
In January 2008, HM1 Lohrey was assigned to 2nd Reconnaissance Battalion at Camp Lejeune, NC as a newly minted Field Medical Service Technician. In October 2010, HM1 Lohrey deployed to Afghanistan in support of Operation Enduring Freedom. He then attended the Basic Airborne and Special Operations Combat Medic courses in Fort Bragg, NC and was assigned as the Assistant Leading Petty Officer of 2nd Reconnaissance Battalion. In June 2015, he attended the Marine Combatant Diver and Dive Medical courses, successfully earning the Navy Enlisted Classification 8427 Special Amphibious Reconnaissance Corpsman.
In November 2015, HM1 Lohrey transferred to 2nd Marine Raider Battalion, Camp Lejeune, NC and was assigned to Marine Special Operations Company F, Team 8211 as their Special Amphibious Reconnaissance Corpsman. In July 2016, he was deployed to Northern Iraq in support of Operation Inherent Resolve.  He was later reassigned to Marine Special Operations Company H, Team 8231.
HM1 Lohrey died when a KC-130T crashed in LeFlore County, MS on July 10, 2017.
HM1 Lohrey's personal awards include the Purple Heart, Navy-Marine Corps Commendation Medal, Combat Action Ribbon with gold star in lieu of second award, and Navy Good Conduct Medal with bronze stars in lieu of third award.