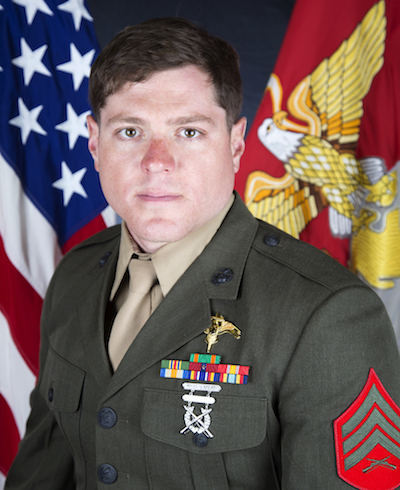 Sgt. Leach was born in Anchorage, AK on Aug. 26, 1989. At the age of six, he and his family moved to Fulton, MO, where he was raised and graduated from high school in 2008.  In April 2010, Sgt. Leach completed Recruit Training at Marine Corps Recruit Depot, San Diego, CA, went on to Marine Combat Training and military occupational specialty schools, and was assigned to Chemical Biological Incident Response Force (CBIRF), located in Indian Head, MD. During his first years at CBIRF, Lance Corporal Leach served as his platoon's training non-commissioned officer and section leader for the Radiation Detection Team.
From January to March 2013, Corporal Leach attended MARSOC Assessment and Selection and was selected to attend Individual Training Course . He was promoted to Sergeant in September 2013, and attended Sergeant's Course in October 2013.  Sergeant Leach attended and graduated from ITC in 2014, and then attended the Marine Special Operations School Arabic language course.
In January 2016, Sgt. Leach deployed with MSOT 8231 to Jordan, where he trained with Jordanian Special Forces. In November 2016, Sgt. Leach graduated MARSOF Advanced Sniper Course, shortly after he attended Multi-Mission Parachute Course (MMPC) in Coolidge, AZ.
Sergeant Leach died when a KC-130T crashed in LeFlore County, MS on July 10, 2017.
Sgt. Leach's personal decorations include the Good Conduct Medal and the Navy-Marine Corps Achievement Medal.